After moving to Nashville Tenn. I decided to build a custom guitar. Being really intrigued by rosewood guitars and having worked with rosewood making xylophones, I was familiar with the wood and tone it produced. My goal was to build a rosewood thinline tele style guitar. With some research I found a place in Murfreesboro Tenn. called Guitar Mill. They had a CNC machine and could cut out any style body and neck from any wood. I called Guitar Mill and spoke to Mario Martin about the wood and cost. He suggested because of cost and availability of rosewood, to make the top of the guitar from rosewood and the back and sides from mahogany. We discussed that mahogany was the closest wood in tone and density to rosewood.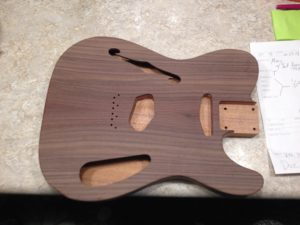 I settled on a '69 thinline tele style with mahogany body and a rosewood top. After a couple weeks I picked up a beautiful mahogany body, rosewood top, '69 thinline tele style body.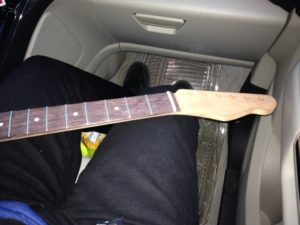 Next I had to decide on a neck. I wanted a neck very similar to my '73 Les Paul Goldtop, so I took the '73 to Guitar Mill and had Mario take measurements of the neck. He produced a neck exactly the same feel as the '73 made of mahogany with a rosewood fingerboard. GuitarMill does very nice work!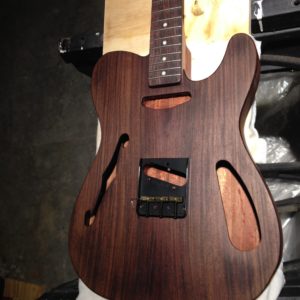 I wanted a satin finish for the body and neck because I really like the feel of it. Sometimes lacquer can be a tad sticky. Penofin Brazillian Rosewood Oil (Red Label) seemed to be the best choice for the finish. I brushed the Penofin on with a sponge brush, let it soak in and dry, rubbed off the excess and wet sanded. With each coat I used finer and finer grit paper, ending up using a 2000 grit for the last finish coat. The Penofin gave the guitar a really nice looking durable finish!! Nothing really to nick or chip.
Decided to go all high end parts because the guitar looked so nice.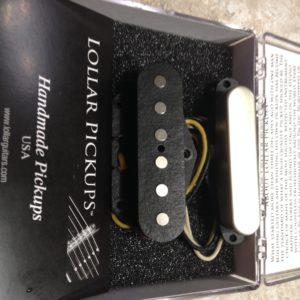 The guitar needed pickups, pickguard, bridge and the electronics. I choose Lollar Tele vintage hand wound pickups. Really great pickups and correct for a tele sound. The body is a '69 thinline tele style and should sound like one.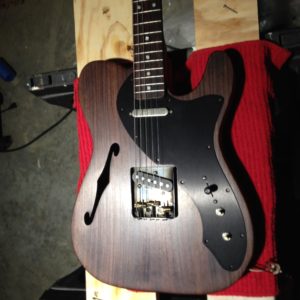 I purchased the Emerson 3 way wired kit which included the control knobs and the 3 way switch, all I had to do was install the kit on the pickguard and solder the pickups in. The kit came with very easy to follow instructions.
As I was researching pick guards I found Tone Guard aluminum pick guards. Great shielding from interference and noise from the guitar, being familiar with single coils, sometimes they do pickup interference. Purchased the Tone Guard '69 Thin Line Tele aluminum pick guard in black.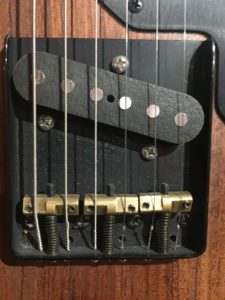 After a little research, I found a Wilkenson compensated tele bridge in black with brass barrels, closest I could find to the original with good intonation
Decided on Schaller M6 inline locking tuners in black, very smooth and hold the tuning well.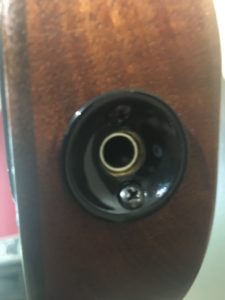 Found a neck plate in black nickel and liked the look of it. After assembly, added the jack cup in black and a nut and I was ready for strings.
All I needed was a nice case to carry it in