Walking into Summer NAMM there was a myriad of new musical and music technology on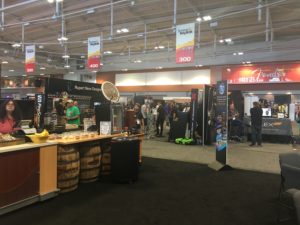 display. There were lots of IEMs (In Ear Monitors) there, not surprising as this is clearly the future of stage monitoring. Since I play guitar mostly and my second musical passion being recording, I zeroed in a lot on guitar and recording gear.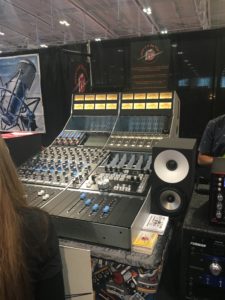 I am really intrigued by the 500 series stuff. Was instantly drawn to a 500 series mixer by Fix Audio. Imagine having a console where every preamp could be easily changed to suit any style of music and instrument. Also the console main section and metering was changeable. I am partial to VU meters and the console on display was full of VU's. Pricey but a great idea!!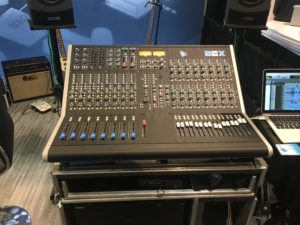 There was The Box there from API. Same idea with a lot of 500 series modules that could be changed to suit any taste.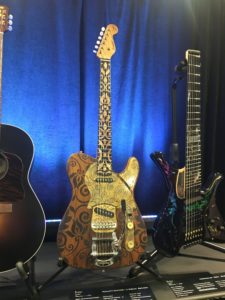 Got to see first hand the Paoletti guitars, handcrafted in Italy from 130 to 150 year old chestnut woods from the Paoletti family's Chianti wine barrells. They had 2 guitars on display, the Leonardo (a true work of art) and a guitar owned by Richard Fortus from Guns N Roses.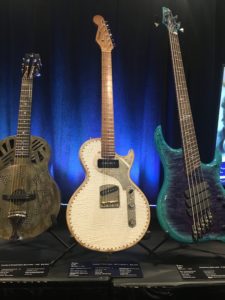 There was also a true backpack guitar that the neck folded and would easily fit in a backpack and stored under an airline seat. Then the guitar could be easily taken out and ready to play in just minutes. This was from Ciari Guitars, a company in Nashville. Should be a hit with the downtown Nashville Broadway musicians who need to move from club to club quickly.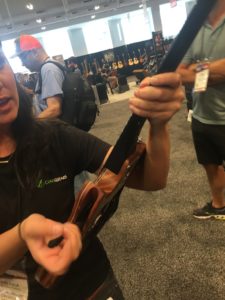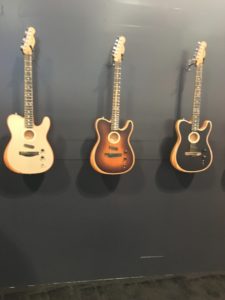 Of course all the big guitar companies were there Fender, Gibson and Martin. Really enjoyed seeing the new Fender Acoustisonic Telecaster, lots of them on display.
Gibson and Martin also had LOTS to see!!! Gibson had a throne made of guitar bodies and necks, had to get a pic on the throne.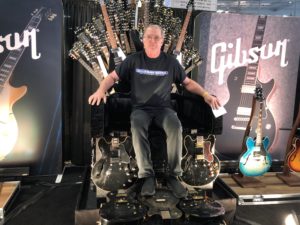 Timberline guitars had some really nice Harp Guitars. A really unusual sound.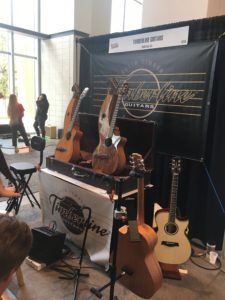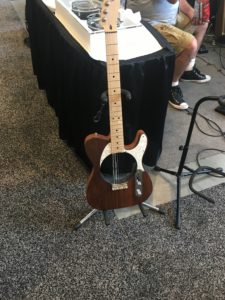 JRK Custom guitars had the pickups on a wheel guitar. The guitars had a hole in the middle and the pickup wheel sits in the hole and can be rotated for different configs of the pickups.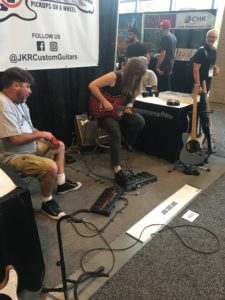 Since I was walking with 2 drummers, we saw some really cool drum stuff. What really caught my eye was a drum pedal that uses polar opposing magnets instead of a spring to push the bass drum and high hat pedal back up.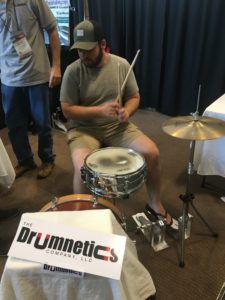 We saw some Ergosonic drums that the shells turned forward with a bottom head.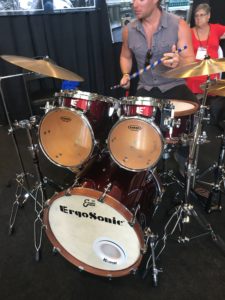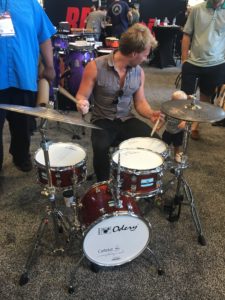 There was a small drum set called a CafeKit, would be nice for really small jobs where there is not a lot of room for the drums.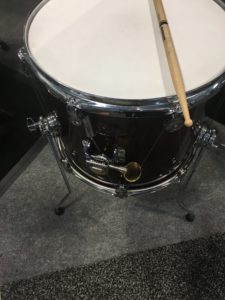 Another cool idea was a drum set that had a type of guitar tuner on it, so the heads could be easily tuned on the fly while playing. This is called the Welch Tuning System.
Also there were smaller percussion things, such as brightly colored Cajons and a device called the Junkhat that sort of took the place of a high hat.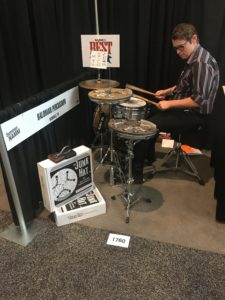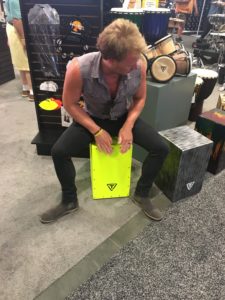 All in all, lots of things to see and touch. Definitely worth going!!!