Wanting to add some piano parts to some of my recordings and to get more proficient on the keyboard, I decided to start looking for a used keyboard. As with any purchase, I came up with some criteria:
Velocity sensitive keyboard that would feel like an acoustic piano. Some type of real hammer action.
Only wanted a few really nice sounds, piano, harpsicord, organ were the main ones I wanted, not hundreds of mediocre sounds.
Needed to have full MIDI functions.
Wanted a full 88 key keybed.
There was no need for a built in amplifier and speakers.
Sustain pedal capable.
There are several really good internet sites such as www.digitalpianoreviewguide.com and forum.pianoworld.com that have the specs and reviews of keyboards. I found reading these gave me a general idea what the keyboards are like.
With those things in mind I began my search. Looking at several music stores in the area as well as, Ebay and Craigslist. I was seeing the usual suspects from Yamaha, Roland, Casio, Alesis, Korg and Akai. In wanting to stay under $500 nothing new was considered. There were also keyboards by Peavey, Kurzweil and General Music that seemed like possibilities.
When scouring the music stores I was able to try many types of keyboards out and get a feel for what key action was best for my playing. I found there were 4 types of key action, non-weighted, semi weighted, hammer action and graded hammer action. Like I mentioned earlier, I was attempting to add piano parts to recordings and using a non- weighted keyboard just wasn't working out. The feel of the keyboard was wrong so it was hard to get any feeling on the recording. Realized the graded hammer action was what I preferred.
Called about several on Craigslist and placed numerous possibilities on my Ebay watch list, Ebay was tough because the keyboard would have to be shipped unless I saw something local. Shipping on large items can get pricey. Also watched shopgoodwill.com but unless something was listed in Nashville, shipping would be an issue.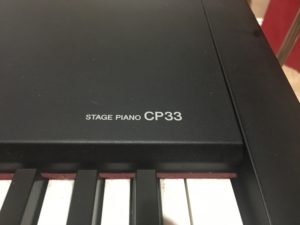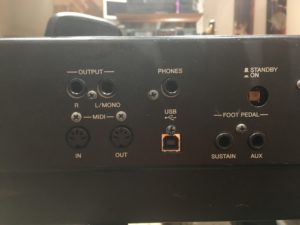 After weeks of searching , a Yamaha CP33 stage piano came up on Craigslist. It met all of my criteria and even had some built in effects, USB for connection to a computer and was in my price range.
I set up a meeting, counted my money and went to check it out, the keyboard was in nice playable condition and came with a sustain pedal, so I purchased the CP33 and here it sits. Does everything needed and more, and it is much easier to put keyboard parts in my recordings!!
Comments are welcome!!
CP33 Youtube Video!!